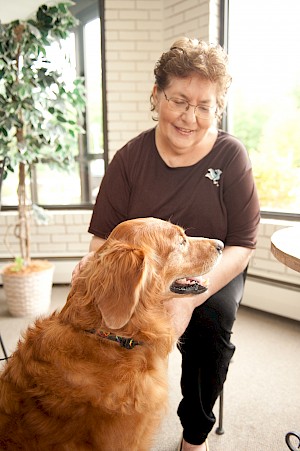 Specialized Behavioral Health Care and Services
Touchpoints at Bloomfield believes in person-centered and goal-directed approaches towards behavioral and medical wellness. To achieve this goal and an optimal resident experience, a full time Behavioral Program Director is responsible for coordinating recovery-based programming, training and resources.
Touchpoints' unique behavioral health program utilizes and includes the following components:
Psychosocial Rehabilitative Groups,  
Weekly Interdisciplinary Behavioral "Rounding",
Comprehensive therapeutic activities and skilled rehabilitation services (Physical , Occupational, Speech and Language Therapies),
Direct care staff trained annually in certified safe, dignified and person-centered behavioral management techniques,
Affiliation with Greater Hartford Memory Care Centers,
Specially-trained, supportive staff,
Comfortable, quiet, safe well lit and secure environment,
Safe, enclosed outdoor area, and
Comprehensive Mental Health Services
Psychiatrist (weekly on-site availability)
APRNs (multiple weekly on-site availability)
Psychologists (multiple weekly on-site availability)
Licensed Clinical Social Workers (multiple weekly on-site availability)
Full time Mental Health Specialist on staff
Our Commitment to Stigma-Free Care and a Stigma-Free Environment
According to the National Alliance on Mental Illness (NAMI) website, Stigma is when someone, or even you yourself, views a person in a negative way just because they have a mental health condition. Some people describe stigma as a feeling of shame or judgement from someone else. Stigma can even come from an internal place, confusing feeling bad with being bad.
Stigma harms the 1 in 5 Americans affected by mental health conditions. It shames them into silence and prevents them from seeking help. The StigmaFree campaign is the effort to end stigma and create hope for those affected by mental illness.
Navigating life with a mental health condition can be tough, and the isolation, blame and secrecy that is often encouraged by stigma can create huge challenges to reaching out, getting needed support and living well. Learning how to avoid and address stigma are important for all of us.
Touchpoints at Bloomfield and the iCare Health Network communities are committed a stigma-free environment and stigma free care for those with mental illness, and also those with substance use, dementia and other cognitive disorders.