Welcome to Touchpoints at Bloomfield
Heather Rodriguez
Administrator
Dear Resident and Family Members,
Thank you for choosing Touchpoints at Bloomfield as your skilled nursing healthcare provider.  Touchpoints at Bloomfield is an innovative skilled nursing care center that provides all manner of short term rehabilitation and long term care, specializing in Congestive Heart Failure (CHF), Pulmonary Rehabilitation and Behavioral Health provided in a secure setting.
The care plan and clinical pathway for residents participating in the CHF and Pulmonary programs is followed closely by the Care Transitions nursing and respiratory team. This group of clinicians works with the interdisciplinary team, including hospital partners and consulting pulmonologists on a daily basis to ensure high quality clinical outcomes, strong customer service, decreased readmission rates and shorter lengths of stay.  Touchpoints is a proud partner of both the Saint Francis Hospital (Trinity Health of New England/SOHO) Post-Acute Care Network and the Hartford HealthCare Integrated Care Partners network. 
At Touchpoints, we know that each patient's needs are unique. We take those individual needs and create a plan of care tailored to you and your health goals and set you up for success.  Our doors are always open for you and your loved ones and our interdisciplinary team is committed to addressing the whole patient. Continue Reading

Specialty Services

iCare Health Network Blog
All the latest news, discussion, and updates from the iCare Health Network team!
On November 16, 2023 the team at Touchpoints at Bloomfield once again hosted a Thanksgiving luncheon at the Bloomfield Senior Center.  About 75 Bloomfield seniors were in attendance as several department managers from Touchpoints at Bloomfield served a traditional holiday meal complete with appetizers, dessert and apple cider.  Great job, TAB team!
"I'm very happy with the way my brother was treated, he had his emotional issues, but the staff there was very helpful and they made it very good experience and I'm very grateful to the whole staff."
~ Brother of Resident (October 2023)
"The staff is always kind, and courteous, and friendly. They always responded with hello. I'd walk in and they knew who I was. My dad was well cared for. He was able to go outside. He was able to go down and use the bike more than once. They were just very kind, and I give them a thumbs up. Hopefully he doesn't have to go back there, but if he does I wouldn't be nervous. Very pleased with the rehab part of the facility. Because that's where he was."
~ Resident SH (October 2023)
"The nurses and administrators always address my concerns. Alicia my nurse is tremendous. Danielle who is in charge of Windsor Right is great, Nancy K is very good, CNA Gem is absolutely wonderful. Paul, supervisor of the kitchen makes the food excellent."
~ Resident JM (May 2023)
"I would definitely recommend this facility to friends who have elderly family members that need constant care. Keep up the good work."
~ Resident FP (May 2023)
"(Five Star Google Review) – My son Chris has been a patient at Touchpoints for 1 year today. I cant tell you how comforting it is as a mom to see the love & kindness the whole staff shows to him and me, my husband and Chris's brother. Every single person I've had contact with is amazing. I can't name names because I'm afraid to leave someone out but I will say from the front desk, to the rec room, the girl that comes in and gives haircuts, the guy who brings his lunch in, the young friendly guy who cleans his room, the kind and compassionate aids and nurses, the aids that come with him to dr appts, Nancy the social worker, and those happy, fun-loving PT girls that treat him like he's their own brother! Oh and his compassionate psychiatrist. I'm sure I've forgotten someone but I feel blessed for everyone at Touchpoints! As a mom to know your child is being cared for with love and kindness when you aren't there is everything. God bless everyone of you."
~ Cathy Cadra via Google (December 2023)
"Five Star Google Review: My son Chris has been at Touchpoints since January and I'm so happy he ended up there! Every single person who works there treats him like he's their little brother! Including some of the patients. The whole staff is so friendly and helpful. They all try to quickly respond and resolve any issues that come up. As a mom who can't get there every day it's such a comfort to know my son is being cared for so well is a blessing! I have to give a big shout out to the PT department who have truly become like family with their positive attitudes and caring, compassionate way they treat the patients and their total dedication to their patients! And the big hearted nurses and cafeteria guys always have smiles on their faces! Thank you to everyone at Touchpoints!"
~ Cathy Cadra via Google Reviews (June 2022)
"Very happy and secure here…a solid 10."
~ Resident MS (January 2022)
"Rated 10/10. The treatment was very good with the staff and everybody. I was so pleased that I got good treatment. Telling friends and family [this] is a very good place. I recommend to my family. It's very, good place. I'm very pleased and proud about it. I can't stop talking about the treatment that I've received."
~ Resident EB (April 2021)
"(FIVE STARS) Cindy was excellent and helped keep our loved one there in touch with family during COVID. Through FaceTime, phone calls, and visits, she was always wonderful and accommodating!"
~ Kristen Bertone (April 2021) via Google Reviews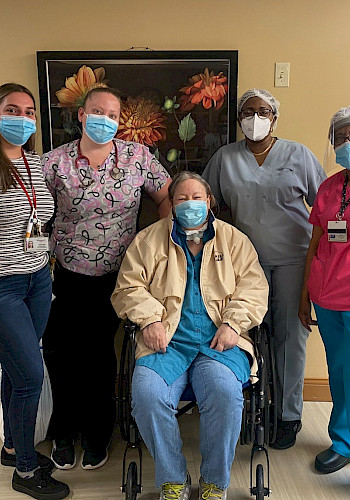 "Final Stop….on a long road led me to Touchpoints at Bloomfield. The staff is warm and welcoming. Their professionalism, good spirits took me to the path of sold recovery. I could see myself getting stronger day by day. I know this is the staff's job, but no one ever made me feel like working with me was a chore. All the staff from nursing, nurse's aides, Physical/Occupational therapy and recreation made me feel at home. I owe so much of my recovery to Touchpoints at Bloomfield. I am forever grateful.."
~ Jan Bartrop-Babbit (October 2020)
"I have been a resident here at Touchpoints at Bloomfield for the past 9 months. I was in pretty bad shape. I wouldn't give the staff the time, but they showed me they would not give up on me. I have been treated with much respect. No place is perfect. When I have a question the staff helps me. Dwayne in recreation has been a big help. He has giving me so much support. Rehab has been working so hard in helping me recover. The nursing staff continues to help me with anything I need. I'm thankful and look forward to returning home."
~ Albert Lewis (September 2020)
"I been a patient here for over a year the Administrator Heather is always smiling and asking how is are day going. The recreation staff lead by Cindy and her fabulous staff making it enjoyable to be here. The nursing staff along with the CNA and PAC are top notch. The cleaning crew is always cleaning to make the rooms nice.this is a really enjoyable place so if you are looking for a place for your love ones I recommend here.along with physical therapy headed by Ann and her staff are great the work you hard to get you better."
~ Kenneth Toce (September 2020)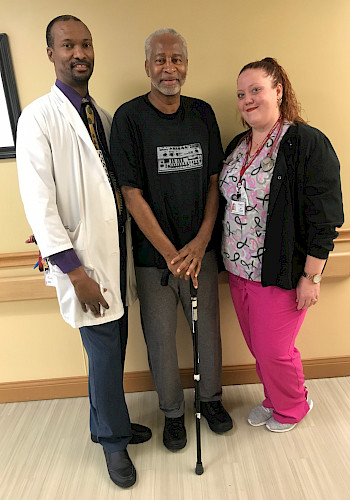 "My stay at Touchpoints at Bloomfield was very rewarding and beneficial to me as I was recovering. I received a lot of help and truly grateful. The staff was professional and caring. I appreciate all of their services. I highly recommend Touchpoints at Bloomfield to anyone who needs help getting their life back in order. I have been to many other facilities, by far this is the top of my list. I owe the staff here my life. Because of TAB I am back to where I should be….walking, healthy and happy."
~ Donald Hawkins (January 2020)
"I have been working here for the past 3 years as a physical therapist and have enjoyed every day. I have the pleasure working with a supportive and carrying staff where our focus and goals are to help our residents achieve their highest level of functional performance."
~ Mansi Desai via Google Reviews (October 2019)
"I've recently had the pleasure of visiting this location and have to say this is a really great looking facility outdoors and in! Not to mention, seeing the high quality awards as I entered truly makes me consider having a loved one here!"
~ Lenae Holloman via Google Reviews (October 2019)
"I have been an employee at TAB for the past 30 years. The reason why I have been here for so long is iCare is a good company to work for. They have good benefits and treat the staff well. I enjoy working with the residents and keeping them happy. I have a great relationships with the management team. We are a TEAM at TAB."
~ Richard Anderson via Google Reviews (November 2019)
"For the past several years, I have facilitated painting/art classes/activities at Touchpoints. The staff and residents are so friendly and wonderful to work with. Sharing my gift of art with the residents is a highlight of my week."
~ Lori Borrous via Google Review (October 2019)
"I've been working as a volunteer at Touchpoints at Bloomfield for 8 years. I help lead a ecumenical worship service at the facility and visit residents. I have always found the staff here professional and caring. There is a very active recreational program for the residents, so that they stay involved with one another and are motivated to be part of the community, not just stay in their room. I can't comment on the medical care since that's not my specialty. But there is high socialization of the residents that helps with their well-being and relationships."
~ Steven Tate via Google Reviews (November 2019)
"(Rated Five Stars) This is a good place! The other recovering people here are friendly like a family; and staff are quick to answer when I ring my call light. I feel at home here, the only difference is I don't have to cook and clean for myself!"
~ Maverick Mann via Google Reviews (October 2019)
"Our ministry has been affiliated with what is now Touchpoints at Bloomfield, for more than 20 years. I became familiar with the facility because my father was a former resident before his passing and I appreciated the special care they gave him during his extended illness. It was then that my family and I decided to volunteer our services in a meaningful way. This awesome relationship has continued for close to 30 years! With a team of volunteers from our church, my family and I render a brief monthly church service for residents that is always well-attended. We have built lasting friendships with Touchpoints' residents and the wonderful experiences we've shared have encouraged us as much as it has encouraged them! During our numerous visits to Touchpoints, we have always arrived to find a clean, welcoming environment that is fully staffed and conducive to personal growth and social positivity. Touchpoints residents are always clean and well fed."
~ Cindy Austin, Evangelism Director, The Church of Jesus Knows Best, Inc.
"I couldn't walk when I got there, but I left walking. I appreciate it a lot. The therapy got me back on my feet. I would like to recognize Doris. I had good therapists and aides.I would tell them if you need to go there, it's close and the people treat you well. They got me back on my feet. They had church, and people would pray for you."
~ Patient EC (August 2019)
"I appreciate the quality of care. The social worker, Nancy, was extremely helpful. The business office and the nursing staff keep me in contact about her. I'm very pleased that she is going to be receiving the care that she's needed for a long time. I would tell them that it was a facility that has a caring staff and that could help anyone that goes in there. She's only been there a short time, but they are highly rated."
~ Mother of Patient MD (July 2019)
"The treatment was very good, and the people who were there every day were alright. I would like to recognize Cynthia and Christine. All the people that gave me the treatment were good. They gave you good advice. I miss them so much sometimes. When I first got there, I couldn't stand up by myself. I made a lot of improvements. Now I can walk.The physical therapy was very good. They gave you good food to eat. If it wasn't for the food, I wasn't able to move on."
~ Patient ES (December 2018)
"I loved everything they did. There were about five or six of them. The cooks were excellent, and the nurses were nice too.I would tell them to go to that place. They would love it."
~ Patient RW (December 2018)
"After my second visit to Touchpoints, I was so impressed with the staff, the rooms, and the attention she was given. It was 180 degrees from her previous place. Their social worker, Katerina, is very good. Their nutritionist was also excellent. Physical therapy was excellent. They really keep that property up. The outside was always kept meticulously, and the inside was very clean. There were always people cleaning and doing maintenance tasks. I don't think there were any problems. Whenever I asked any questions, they were always answered to my satisfaction. They were really nice to her. I hope all of this gets back to them. I would have no problems with putting her there again."
~ Son of Patient AJ (October 2018)
"I had an operation, and I didn't have my mobility, so I had to go there to get some strength. I appreciated the whole experience. Without it, I wouldn't know what I could and couldn't do. I realized I needed some help. I really enjoyed my experience there. The whole recreation department was really instrumental in getting me back on my feet. Duane really tried to push me along to do the exercises and getting up every morning, showing them that I can do my everyday functions. I would be very likely to recommend them. I would give them five stars."
~ Patient ST (October 2018)
"They were very good. The nurses and the whole staff were very nice to me. There are so many, and I can't remember their names. I would recognize Doris and Marvel and … especially the girls in rehab. They let me walk.I would recommend them any day. It's a very nice place to be. Everyone is very kind, nice, and polite."
~ Patient EW (July 2018)
"I appreciated the rehab and the physical therapy. I appreciated the CNAs. I would like to recognize Amy, the nurse. There was also the unit manager, Francis. He was very good. I would recognize all the people in the physical therapy. It was excellent. I already have recommended them. I would tell them that they were very attentive, that it was very clean, and that the rehab was … excellent."
~ Patient RF (May 2018)
"The staff was very helpful and attentive. I had everything that I needed.The physical therapy department in general were all very good to me. They were very attentive and … thorough. They did what I had to do to get accommodated to go home. The staff was really the best part of Touchpoints."
~ Patient CB (May 2018)
"Coming here from the beginning of my stay, I felt comfortable and welcomed from the start. I was a little nervous and scared, but the staff reassured me that I will be well taken care of. My length of stay was a little over two weeks and I felt like I went from being a patient to a family member of TAB. The staff was excellent and I can't say enough about the care I received. I would highly recommend this facility to my family and friends."
~ Jerome Green (January 2018)
"The staff is very friendly and helpful. It's clean and orderly…They take very good care of my wife, and I'm happy with that. They are taking very good care of her, and it seems like she is stabilizing. All of them are pretty good. The head social worker, Nancy, has been a big help. She's only been there for a short period of time, but I've been getting a lot of help in that time. I checked out a couple of nursing homes before I decided to keep her there, and from what I've seen, they've done a good job. I come at … different times, so they don't expect me, and it seems like they have everything pretty well under control and running well."
~ Patient LS (October 2017)
"Touchpoints at Bloomfield staff, such as the nurses, CNAs, Rehab, dietary and Recreation staff were so kind to me. They were very informative and knowledgeable about my condition. They helped me achieve my goals. I felt like I was at home. It was nice to see all the workers work together as a team. I would highly recommend this facility to whomever needs services. Areas Appreciated? It was everything. I would go there again a million times. I'm not good at names. There was Maureen, Dr. Rodgers, all of the physical therapists, Heather, and all of them. It was even the guy who brought the cereal in the morning and the breakfast people. They were all on the ball. They all know you have a problem and they can deal with it."
~ Winifred Shermer
"I was impressed by the diligence of the PT and OT staff. I also found the Respiratory Therapist to be consistent in my care and kept me informed on my progress. The dietary staff was very accommodating to my dietary needs. Once I felt better I was able to participate in the recreational programs. I baked bread and assisted in the Bake Sale which all the proceeds were donated to the Breast Cancer Association at Hartford Hospital. I am going home stronger both physically and mentally because of the services that I received staying at TAB."
~ Marie Piscopio
"I appreciated that they got him moving quickly. We thought he would be in there for a longer time, but they kept him moving. I am very happy that they kept him walking to get him home because I thought it would be longer.The exercise was excellent. The employees were very good looking after him. The room was clean, nice, and comfortable. The bed was clean. They changed him every day. The care was excellent. I would recommend them to anyone because the nursing service was good. I would tell them that I would recommend them to go there. Their rehab was beautiful. I went there sometimes, and it was good."
~ Spouse of Patient LD (October 2017)
"The people, from the nurses to the aides to whomever, were absolutely wonderful. They treated her like she was their mother. They treated me well, too. I would recognize Miss Pat, Miss Euna, all the people in physical therapy, all the nurses, and Anne. They were all great. I'm very likely to recommend it. The rehab facility was fantastic, so … I would recommend it to anyone who needed rehab."
~ Daughter of Patient DK (October 2017)
"I chose Touchpoints because my brother's wife was here some time back, and I got information from her that it was a nice place where they would treat me well. I appreciate the gym that they have. The nurses, aides, and all of the personnel are really good. I'd like to recognize Chuck and Amy, a nurse. They take care of the bed and wash the … clothes. They do everything. They have good standards. They have nice, hot meals for lunch and dinner, and in the mornings, breakfast is good. They take good care of you here."
~ Patient EC (September 2017)
"They are just very easy to talk to. They answer my questions quickly. They give me the information about my wife that I'm looking for. It seems like a good place. She likes it there and that's a big thing. I have a lot of contact with her the social worker, Samantha. It's a wonderful facility. They treat the residents and their relatives well. It's a nice place to go for rehab. It's that they treat her with respect and dignity and get her wound better so she can come home."
~ Resident GU's Spouse (July 2017)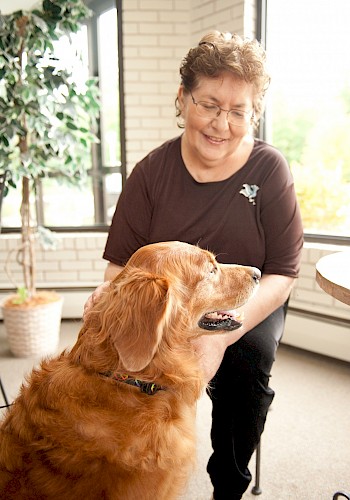 "When I was hospitalized after being at another nursing home, a representative from Touchpoints at Bloomfield came to visit me. I decided to go to Touchpoints after that visit, and it was the best decision I could have made! The Nurses are very good, and I have a lot of friends here. I love to get my hair done here and to participate in the acrylic paint classes."
~ Susan Muller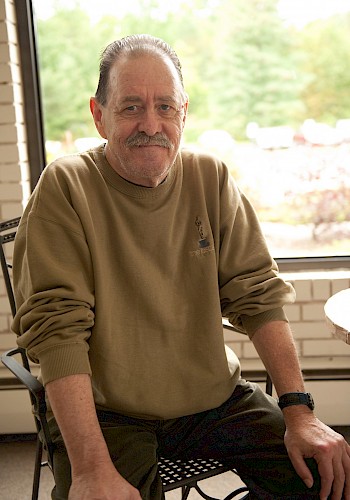 "The staff here at Touchpoints at Bloomfield is very professional; they really care about the residents. The CNAs make me feel very special because they are very kind, and they go above and beyond. Therapy is very good too. My ankle doesn't hurt me anymore. I have a lot of freedom to do what I want. I walk a lot, and go to the grocery store or salvation army store."
~ Kirk Albright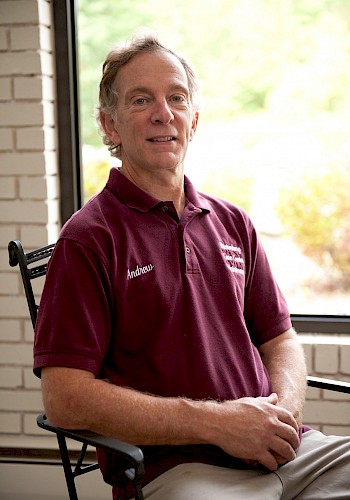 "I have been a part of the Maintenance Department since 1985. I have always felt like a part of an extended family to the residents here. I often receive cards of gratitude from the residents for what I do. What seems insignificant to most, is often important to our residents. They rely on us to be there for them."
~ Andy Casassa
"I really appreciated the people in the rehab. They were very good. One nurse was extremely caring. She made me feel like what I had to say was important."
~ Patient LW (March 2017)
"Everybody was very helpful. They were very laidback, patient, and friendly. The staff was great. There were a bunch of nurses that were great. They were attentive. If you needed anything, they got it for you. The place is very clean. The PT and OT programs are very good. They work one-on-one with you. Once you progress, they give you what you need to keep going on your own, but they check on you. There is always someone available all times of the night."
~ Patient DW (May 2017)
"I'm very satisfied with the care. The place is well kept up. The attention is good. I don't have any complaints about them. The nursing staff has been fantastic. I don't know what else to say. They seem to have gone out of their way to accommodate me. They have been very kind to me."
~ Phone Survey Respondent (September 2017)
"I appreciated the quality nursing. The quality of the therapy group was good. The recreation people were awesome. The business office people were awesome. I saw most of the therapists and all of them were good. I can't pick one over the other. I can pick a caregiver, Dina. There might have been two or three others who were good, but no one took care of me like Dina. I told them she needs to be recognized."
~ Patient DS (October 2017)
"I like working here because I enjoy working with the residents and staff. Everyone is very nice. I always leave here with a smile on my face. I have been a CNA here for the past 15 years."
~ Eda Alfred via Google Reviews (October 2019)
"(Rated Five Stars) The facility is very nice and one of the best in the state; to my knowledge! The staff are very professional, the building is always clean and quiet!"
~ Donald Hawkins via Google Reviews (October 2019)