Welcome to Touchpoints at Bloomfield
Jaime Faucher
Administrator
Dear Resident and Family Members,
Thank you for choosing Touchpoints at Bloomfield as your skilled nursing healthcare provider.  At Touchpoints, we know that each patient's needs are unique. We take those individual needs and create a plan of care tailored to you and your health goals and set you up for success.  Our doors are always open for you and your loved ones and our interdisciplinary team is committed to addressing the whole patient.
Touchpoints at Bloomfield is an innovative skilled nursing facility that specializes in Congestive Heart Failure (CHF) and Pulmonary Rehabilitation. The care plan and clinical pathway for residents on the CHF and Pulmonary programs is followed closely by the Care Transitions team. This group of nurses works with the interdisciplinary team, including hospital partners and consulting pulmonologists on a daily basis to ensure high quality clinical outcomes, strong customer service, decreased readmission rates and shorter lengths of stay.  Touchpoints is a proud partner of the Saint Francis Hospital Post-Acute Care Network. Continue Reading

Specialty Services

iCare Heartbeat
All the latest news, discussion, and updates from the iCare & Touchpoints Rehab team.
iCare Health Network will be holding an all day RN Hiring Event on September 11, 2019 at the corporate office in Manchester for opportunities throughout the Network. Interviews will be conducted on the spot, if so desired. Every person hired will be entered to win an Apple iPad. Every attendee will be entered into a drawing to win a door prize. Check out the full post by clicking or go to icare.careers. 
"I couldn't walk when I got there, but I left walking. I appreciate it a lot. The therapy got me back on my feet. I would like to recognize Doris. I had good therapists and aides.I would tell them if you need to go there, it's close and the people treat you well. They got me back on my feet. They had church, and people would pray for you."
~ Patient EC (August 2019)
"I appreciate the quality of care. The social worked, Nancy, was extremely helpful. The business office and the nursing staff keep me in contact about her. I'm very pleased that she is going to be receiving the care that she's needed for a long time. I would tell them that it was a facility that has a caring staff and that could help anyone that goes in there. She's only been there a short time, but they are highly rated."
~ Mother of Patient MD (July 2019)
"The treatment was very good, and the people who were there every day were alright. I would like to recognize Cynthia and Christine. All the people that gave me the treatment were good. They gave you good advice. I miss them so much sometimes. When I first got there, I couldn't stand up by myself. I made a lot of improvements. Now I can walk.The physical therapy was very good. They gave you good food to eat. If it wasn't for the food, I wasn't able to move on."
~ Patient ES (December 2018)
"I loved everything they did. There were about five or six of them. The cooks were excellent, and the nurses were nice too.I would tell them to go to that place. They would love it."
~ Patient RW (December 2018)
"After my second visit to Touchpoints, I was so impressed with the staff, the rooms, and the attention she was given. It was 180 degrees from her previous place. Their social worker, Katerina, is very good. Their nutritionist was also excellent. Physical therapy was excellent. They really keep that property up. The outside was always kept meticulously, and the inside was very clean. There were always people cleaning and doing maintenance tasks. I don't think there were any problems. Whenever I asked any questions, they were always answered to my satisfaction. They were really nice to her. I hope all of this gets back to them. I would have no problems with putting her there again."
~ Son of Patient AJ (October 2018)
"I had an operation, and I didn't have my mobility, so I had to go there to get some strength. I appreciated the whole experience. Without it, I wouldn't know what I could and couldn't do. I realized I needed some help. I really enjoyed my experience there. The whole recreation department was really instrumental in getting me back on my feet. Duane really tried to push me along to do the exercises and getting up every morning, showing them that I can do my everyday functions. I would be very likely to recommend them. I would give them five stars."
~ Patient ST (October 2018)
"They were very good. The nurses and the whole staff were very nice to me. There are so many, and I can't remember their names. I would recognize Doris and Marvel and especially the girls in rehab. They let me walk.I would recommend them any day. It's a very nice place to be. Everyone is very kind, nice, and polite."
~ Patient EW (July 2018)
"I appreciated the rehab and the physical therapy. I appreciated the CNAs. I would like to recognize Amy, the nurse. There was also the unit manager, Francis. He was very good. I would recognize all the people in the physical therapy. It was excellent. I already have recommended them. I would tell them that they were very attentive, that it was very clean, and that the rehab was excellent."
~ Patient RF (May 2018)
"The staff was very helpful and attentive. I had everything that I needed.The physical therapy department in general were all very good to me. They were very attentive and thorough. They did what I had to do to get accommodated to go home. The staff was really the best part of Touchpoints."
~ Patient CB (May 2018)
"Coming here from the beginning of my stay, I felt comfortable and welcomed from the start. I was a little nervous and scared, but the staff reassured me that I will be well taken care of. My length of stay was a little over two weeks and I felt like I went from being a patient to a family member of TAB. The staff was excellent and I can't say enough about the care I received. I would highly recommend this facility to my family and friends."
~ Jerome Green (January 2018)
"The staff is very friendly and helpful. It's clean and orderly…They take very good care of my wife, and I'm happy with that. They are taking very good care of her, and it seems like she is stabilizing. All of them are pretty good. The head social worker, Nancy, has been a big help. She's only been there for a short period of time, but I've been getting a lot of help in that time. I checked out a couple of nursing homes before I decided to keep her there, and from what I've seen, they've done a good job. I come at different times, so they don't expect me, and it seems like they have everything pretty well under control and running well."
~ Patient LS (October 2017)
"Touchpoints at Bloomfield staff, such as the nurses, CNAs, Rehab, dietary and Recreation staff were so kind to me. They were very informative and knowledgeable about my condition. They helped me achieve my goals. I felt like I was at home. It was nice to see all the workers work together as a team. I would highly recommend this facility to whomever needs services. Areas Appreciated? It was everything. I would go there again a million times. I'm not good at names. There was Maureen, Dr. Rodgers, all of the physical therapists, Heather, and all of them. It was even the guy who brought the cereal in the morning and the breakfast people. They were all on the ball. They all know you have a problem and they can deal with it."
~ Winifred Shermer
"I was impressed by the diligence of the PT and OT staff. I also found the Respiratory Therapist to be consistent in my care and kept me informed on my progress. The dietary staff was very accommodating to my dietary needs. Once I felt better I was able to participate in the recreational programs. I baked bread and assisted in the Bake Sale which all the proceeds were donated to the Breast Cancer Association at Hartford Hospital. I am going home stronger both physically and mentally because of the services that I received staying at TAB."
~ Marie Piscopio
"I appreciated that they got him moving quickly. We thought he would be in there for a longer time, but they kept him moving. I am very happy that they kept him walking to get him home because I thought it would be longer.The exercise was excellent. The employees were very good looking after him. The room was clean, nice, and comfortable. The bed was clean. They changed him every day. The care was excellent. I would recommend them to anyone because the nursing service was good. I would tell them that I would recommend them to go there. Their rehab was beautiful. I went there sometimes, and it was good."
~ Spouse of Patient LD (October 2017)
"The people, from the nurses to the aides to whomever, were absolutely wonderful. They treated her like she was their mother. They treated me well, too. I would recognize Miss Pat, Miss Euna, all the people in physical therapy, all the nurses, and Anne. They were all great. I'm very likely to recommend it. The rehab facility was fantastic, so I would recommend it to anyone who needed rehab."
~ Daughter of Patient DK (October 2017)
"I chose Touchpoints because my brother's wife was here some time back, and I got information from her that it was a nice place where they would treat me well. I appreciate the gym that they have. The nurses, aides, and all of the personnel are really good. I'd like to recognize Chuck and Amy, a nurse. They take care of the bed and wash the clothes. They do everything. They have good standards. They have nice, hot meals for lunch and dinner, and in the mornings, breakfast is good. They take good care of you here."
~ Patient EC (September 2017)
"They are just very easy to talk to. They answer my questions quickly. They give me the information about my wife that I'm looking for. It seems like a good place. She likes it there and that's a big thing. I have a lot of contact with her the social worker, Samantha. It's a wonderful facility. They treat the residents and their relatives well. It's a nice place to go for rehab. It's that they treat her with respect and dignity and get her wound better so she can come home."
~ Resident GU's Spouse (July 2017)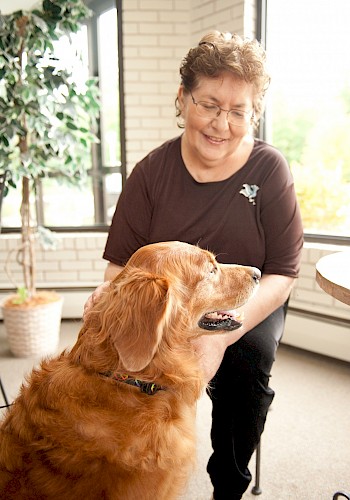 "When I was hospitalized after being at another nursing home, a representative from Touchpoints at Bloomfield came to visit me. I decided to go to Touchpoints after that visit, and it was the best decision I could have made! The Nurses are very good, and I have a lot of friends here. I love to get my hair done here and to participate in the acrylic paint classes."
~ Susan Muller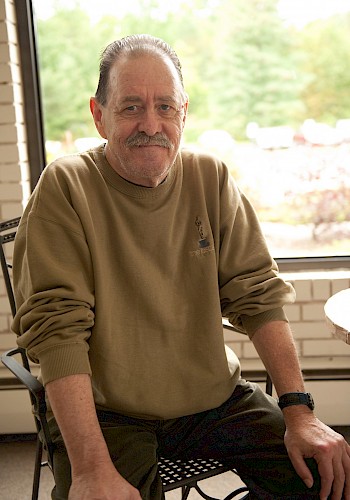 "The staff here at Touchpoints at Bloomfield is very professional; they really care about the residents. The CNAs make me feel very special because they are very kind, and they go above and beyond. Therapy is very good too. My ankle doesn't hurt me anymore. I have a lot of freedom to do what I want. I walk a lot, and go to the grocery store or salvation army store."
~ Kirk Albright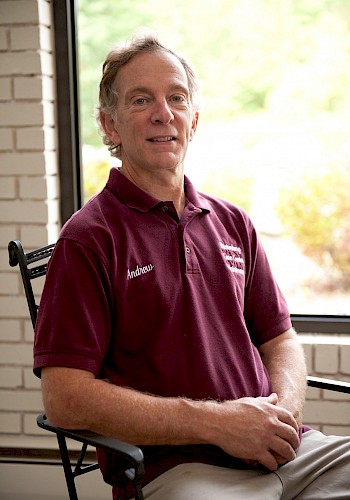 "I have been a part of the Maintenance Department since 1985. I have always felt like a part of an extended family to the residents here. I often receive cards of gratitude from the residents for what I do. What seems insignificant to most, is often important to our residents. They rely on us to be there for them."
~ Andy Casassa
"I really appreciated the people in the rehab. They were very good. One nurse was extremely caring. She made me feel like what I had to say was important."
~ Patient LW (March 2017)
"Everybody was very helpful. They were very laidback, patient, and friendly. The staff was great. There were a bunch of nurses that were great. They were attentive. If you needed anything, they got it for you. The place is very clean. The PT and OT programs are very good. They work one-on-one with you. Once you progress, they give you what you need to keep going on your own, but they check on you. There is always someone available all times of the night."
~ Patient DW (May 2017)
"I'm very satisfied with the care. The place is well kept up. The attention is good. I don't have any complaints about them. The nursing staff has been fantastic. I don't know what else to say. They seem to have gone out of their way to accommodate me. They have been very kind to me."
~ Phone Survey Respondent (September 2017)
"I appreciated the quality nursing. The quality of the therapy group was good. The recreation people were awesome. The business office people were awesome. I saw most of the therapists and all of them were good. I can't pick one over the other. I can pick a caregiver, Dina. There might have been two or three others who were good, but no one took care of me like Dina. I told them she needs to be recognized."
~ Patient DS (October 2017)