Welcome to Touchpoints at Bloomfield
Jaime Faucher
Administrator
Dear Resident and Family Members,
Thank you for choosing Touchpoints at Bloomfield as your skilled nursing healthcare provider.  At Touchpoints, we know that each patient's needs are unique. We take those individual needs and create a plan of care tailored to you and your health goals and set you up for success.  Our doors are always open for you and your loved ones and our interdisciplinary team is committed to addressing the whole patient.
Touchpoints at Bloomfield is an innovative skilled nursing facility that specializes in Congestive Heart Failure (CHF) and Pulmonary Rehabilitation. The care plan and clinical pathway for residents on the CHF and Pulmonary programs is followed closely by the Care Transitions team. This group of nurses works with the interdisciplinary team, including hospital partners and consulting pulmonologists on a daily basis to ensure high quality clinical outcomes, strong customer service, decreased readmission rates and shorter lengths of stay.  Touchpoints is a proud partner of the Saint Francis Hospital Post-Acute Care Network. Continue Reading

Specialty Services

Facility News
Congratulations to the 60 West staff on a receiving a Five Star rating from CMS, including Five Stars in Quality Measures, Staffing and Health Inspection. This is quite an achievement.

What a better way to spend the last Thursday of every month hosting a Wii Bowling Challenge with our friends from the Bloomfield Senior Center.  The residents at Touchpoints at Bloomfield have opened their home to this fine group of seniors in anticipation of showing the residents a grand old time. 

Patient George F. provided a testimonial on his stay at Touchpoints at Manchester after a total hip replacement. He received Touchpoints' signature Beyond the Joint program, including Prehab and Rehab with physical therapy and clearly experienced the benefits of the program, saying, "I just wish to say, my rehab stay at Touchpoints at Manchester exceeded my expectations!"

Touchpoints' Community Liaisons Heather Bale and Kim Wanegar-Nation presented "Rehabilitation and Return to Health" at the Elmwood Senior Center on New Britain Avenue in West Hartford.

Fresh River has found a talented Food Service Director in Janine Lancaster who is committed to bringing distinctive, enjoyable and high quality food to all of Fresh River's residents. Recently, the facility has started offering residents a different way to enjoy their meals.

Touchpoints at Manchester is now contracted with the Veteran's Administration as a provider of skilled nursing and long term care. Touchpoints at Manchester will be a desirable and accessible location for veterans to receive care and they will have access to all programs, including short term, long term, behavioral health, substance use/iRecovery and our signature CHF program.
"I appreciated that they got him moving quickly. We thought he would be in there for a longer time, but they kept him moving. I am very happy that they kept him walking to get him home because I thought it would be longer.The exercise was excellent. The employees were very good looking after him. The room was clean, nice, and comfortable. The bed was clean. They changed him every day. The care was excellent. I would recommend them to anyone because the nursing service was good. I would tell them that I would recommend them to go there. Their rehab was beautiful. I went there sometimes, and it was good."
~ Spouse of Patient LD (October 2017)
"The people, from the nurses to the aides to whomever, were absolutely wonderful. They treated her like she was their mother. They treated me well, too. I would recognize Miss Pat, Miss Euna, all the people in physical therapy, all the nurses, and Anne. They were all great. I'm very likely to recommend it. The rehab facility was fantastic, so I would recommend it to anyone who needed rehab."
~ Daughter of Patient DK (October 2017)
"I chose Touchpoints because my brother's wife was here some time back, and I got information from her that it was a nice place where they would treat me well. I appreciate the gym that they have. The nurses, aides, and all of the personnel are really good. I'd like to recognize Chuck and Amy, a nurse. They take care of the bed and wash the clothes. They do everything. They have good standards. They have nice, hot meals for lunch and dinner, and in the mornings, breakfast is good. They take good care of you here."
~ Patient EC (September 2017)
"They are just very easy to talk to. They answer my questions quickly. They give me the information about my wife that I'm looking for. It seems like a good place. She likes it there and that's a big thing. I have a lot of contact with her the social worker, Samantha. It's a wonderful facility. They treat the residents and their relatives well. It's a nice place to go for rehab. It's that they treat her with respect and dignity and get her wound better so she can come home."
~ Resident GU's Spouse (July 2017)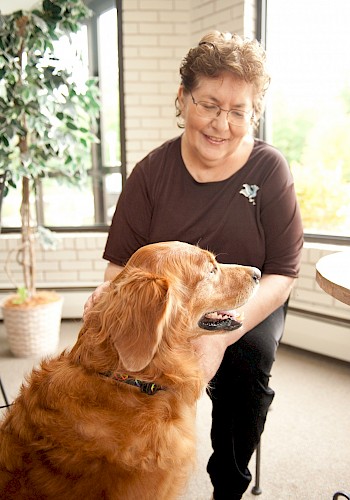 "When I was hospitalized after being at another nursing home, a representative from Touchpoints at Bloomfield came to visit me. I decided to go to Touchpoints after that visit, and it was the best decision I could have made! The Nurses are very good, and I have a lot of friends here. I love to get my hair done here and to participate in the acrylic paint classes."
~ Susan Muller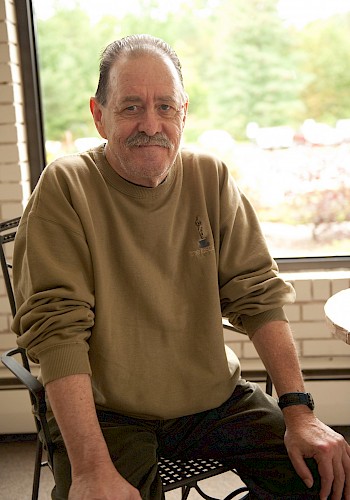 "The staff here at Touchpoints at Bloomfield is very professional; they really care about the residents. The CNAs make me feel very special because they are very kind, and they go above and beyond. Therapy is very good too. My ankle doesn't hurt me anymore. I have a lot of freedom to do what I want. I walk a lot, and go to the grocery store or salvation army store."
~ Kirk Albright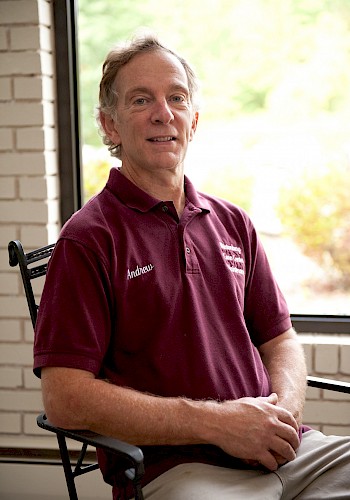 "I have been a part of the Maintenance Department since 1985. I have always felt like a part of an extended family to the residents here. I often receive cards of gratitude from the residents for what I do. What seems insignificant to most, is often important to our residents. They rely on us to be there for them."
~ Andy Casassa
"I really appreciated the people in the rehab. They were very good. One nurse was extremely caring. She made me feel like what I had to say was important."
~ Patient LW (March 2017)
"Everybody was very helpful. They were very laidback, patient, and friendly. The staff was great. There were a bunch of nurses that were great. They were attentive. If you needed anything, they got it for you. The place is very clean. The PT and OT programs are very good. They work one-on-one with you. Once you progress, they give you what you need to keep going on your own, but they check on you. There is always someone available all times of the night."
~ Patient DW (May 2017)
"I'm very satisfied with the care. The place is well kept up. The attention is good. I don't have any complaints about them. The nursing staff has been fantastic. I don't know what else to say. They seem to have gone out of their way to accommodate me. They have been very kind to me."
~ Phone Survey Respondent (September 2017)